Remote Control: Remotely Piloted Air Systems - Current And Future UK Use
HC 772, Tenth Report of Session 2013-14 - Volume I: Report, Together with Formal Minutes
Author:

House of Commons - Defence Committee

Publisher:

TSO (The Stationery Office)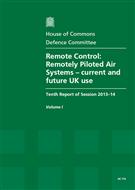 Add to Basket
'Remote Control: Remotely Piloted Air Systems - Current And Future UK Use (HC 772)' reports that the rapid development of remotely piloted air systems, commonly called 'drones', by the UK Armed Forces over the past decade has contributed greatly to the effectiveness of military operations in Iraq and Afghanistan. The provision of enhanced intelligence, surveillance and reconnaissance support to troops on the ground has undoubtedly saved lives and prevented casualties.
However, there has been an increasingly contentious debate in the UK in recent years surrounding the development and use of Remotely Piloted Air Systems (RPAS), mainly due to a lack of information or misunderstanding about their operation, function and potential present or future use.
The Committee is satisfied that a robust system is in place to review every remotely piloted aircraft weapons discharge by a UK aircraft, but the report recognises the desire of some interested organisations and the public to see a greater degree of disclosure from the Ministry of Defence (MOD). The MOD is urged, to the extent that it is operationally secure to do so, to seek to publish details about any incident involving civilian casualties and any lessons learned from review processes.
The report recommends that the UK Government engage actively in the debate on a legal framework for use of RPAS and report on the progress which is made. As part of the next Strategic Defence and Security Review in 2015, the MOD has a strategic choice to make about the future direction for UK RPAS.
Find similar publications here: