Democracy And Development In Burma
HC 821, Ninth Report of Session 2013-14 - Report, Together with Formal Minutes Relating to the Report
Author:

House of Commons - International Development Committee

Publisher:

TSO (The Stationery Office)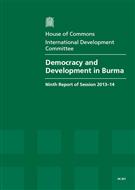 Add to Basket
The report 'Democracy And Development In Burma (HC 821)' concludes that he Department for International Development's Burma budget should be increased promptly from £60 million to £100 million to enable greater support for education, including teacher training, the peace process and parliamentary strengthening.
While a significant progress has been made in Burma over the last few years, a host of problems remain. A key opportunity exists for UK development programmes to help deliver transformational change.
The Committee supports the UK government's approach to support reformers in the Burmese government to raise the country out of poverty, develop the economy and build a society that moves towards democracy. Progress will be unpredictable and uneven, but supporting the reform process by working to deliver public services and develop livelihoods offers unprecedented potential. However, human rights abuses by the military, or any other group, cannot be ignored.
As progress is made towards peace, people should be encouraged to return to Burma so that the support budget for refugee camps can be transferred to in-country programmes, especially in the refugees' home provinces.
Find similar publications here: