Securing The Future Of Afghanistan
HC 413, Tenth Report of Session 2012-13 - Report, Together with Formal Minutes, Oral and Written Evidence
Author:

House of Commons - Defence Committee

Publisher:

TSO (The Stationery Office)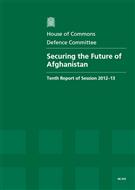 Add to Basket
The report 'Securing the Future of Afghanistan (HC 413)' focuses on the planned withdrawal of combat troops from Afghanistan at the end of 2014, and the transfer of responsibility for security to the Afghan National Security Forces (ANSF). The report also examines the progress towards a secure and stable Afghanistan within the wider region, including Pakistan, and the plans by the UK, NATO and other allies for a smooth transition of responsibility for security to the Afghan Government and the ANSF.
Securing the future of Afghanistan requires the concerted efforts of:
the Afghan people;

regional neighbours, in particular Pakistan;

the USA; and

NATO and other coalition partners.
In the process of establishing a peaceful and functioning Afghanistan, the Committee calls for evidence of:
(i) at least the start of an Afghan-led peace settlement with the insurgency;
(ii)open and free elections;
(iii)an appropriately trained and equipped ANSF with continuing financial support;
(iv)a strong judicial system which protects the human rights of all Afghans;
(v)economic development aid to continue in support of the well being and safety of all sections of society; and
(vi)effective measures to tackle corruption, drug production and the drug trade.
The Report finds that the Ministry of Defence needs to work with international partners and the ANSF to identify ways of meeting significant gaps in necessary capabilities such as helicopters and close air support and medical care from 2015.
The Defence Committee concludes that at the end of UK operations the best the UK will be able to do is to withdraw in good order and engage with external partners to improve Afghanistan's future prospects.
Find similar publications here: