Land Transport Security - Scope For Further EU Involvement
HC 875, Eleventh Report of Session 2012-13 - Volume I: Report, Together with Formal Minutes, Oral and Written Evidence
Author:

House of Commons - Transport Committee

Publisher:

TSO (The Stationery Office)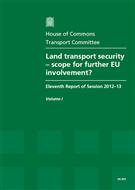 Add to Basket
Last year the European Commission published a staff working document that was principally concerned with extending the Commission's involvement in transport security matters; the report 'Land Transport Security - Scope For Further EU Involvement (HC 875)' examines how the UK could be affected by this further involvement.
Land transport security measures seek to prevent acts of unlawful interference against passengers, freight or transport infrastructure in the road and rail sectors. Unlawful interference, as referred to in the European Commission's document, includes anything from terrorism to relatively minor crime against passengers and transport operators.
The conflation of such wide-ranging security issues is not helpful, and the Committee urge the Government to ensure that any future EU land security transport proposals are more focussed.
Overall, the current risk-based approach to land transport security in the UK is working well and security measures deployed across UK transport modes are proportionate to the current threats that any given sector is exposed to; however, weaknesses have been identified.
Weaknesses in the UK's land transport security regime include:
procedures for dealing with multi-modal transport hubs, at which different threat levels are applied to different modes;

ensuring that staff had a consistent level of training and an understanding of potential threats, risks and preventative measures; and

the difficulty of maintaining a high level of both staff and public vigilance.
The principal recommendation is that the Government should participate actively in EU discussions to ensure that any detailed proposals are focussed and appropriate to the UK. Parliament should be keep abreast of developments so that we can continue to contribute to the shaping of policy in this area.
Find similar publications here: