Rail 2020
HC 329-I, Seventh Report of Session 2012-13 - Volume I: Report, Together with Formal Minutes
Author:

House of Commons - Transport Committee

Publisher:

TSO (The Stationery Office)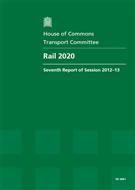 Add to Basket
The report 'Rail 2020 (HC 329-I)' endorses the quest for a more efficient railway by 2020, but raises concerns about safety, staffing and the protection of passenger interests.
The Transport Committee calls for:
clarity about the purpose and effectiveness of rail subsidies;

a clear link between policy on rail and other aspects of transport policy;

a strategic approach to policy-making which does not sacrifice democratic accountability, takes passenger interests more clearly into account, upholds safety standards and develops a strategy for improving the security of the rail network;

greater transparency about the costs of rail to ensure that new investment, operator alliances, profit or wastage levels and various forms of franchise can be better compared and evaluated;

more modern, flexible fares and ticketing options and a clear long-term policy on regulated fares that rules out higher fares for commuters on peak time trains;

a strong single economic regulator for the rail industry;

effective industry leadership via the Rail Delivery Group, scrutinised closely by the regulator to ensure that this strategic body acts in the best interests of the farepayer and taxpayer, rather than established rail interests; and

devolution for some rail franchises to local or regional bodies.
The Committee recommends that the Rail Delivery Group, made up of senior industry leaders, should spearhead the swift implementation of innovative ticketing technology and work with Passenger Focus to develop a clear strategy for improving retail facilities on stations and trains.
Find similar publications here: