The Coastguard, Emergency Towing Vessels and the Maritime Incident Response Group: Follow Up
HC 647, Sixth report of Session 2012-13 - Volume I: Report, Together with Formal Minutes, Oral and Written Evidence
Author:

House of Commons - Transport Committee

Publisher:

TSO (The Stationery Office)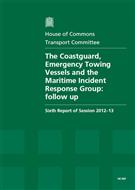 Add to Basket
The report 'The Coastguard, Emergency Towing Vessels and the Maritime Incident Response Group: Follow Up (HC 647)' concludes that the implementation of the Government's modernisation programme risks damaging the coastguard service.
Confusion about the role of the new national Maritime Operations Centre (MOC) and mixed messages about local knowledge and coastguard station closures has undermined staff morale across the service, and caused great concern that the vacancy rate for skilled staff has doubled since 2010.
There is a lack of information concerning what coastguards at the MOC will actually do from day to day, or how these new staff will work with local coastguards. The Maritime Coastguard Agency's (MCA) stance in respect of the local knowledge which coastguards must have is also confusing and contradictory.
The MCA needs to set out its strategy for staff training and articulate its vision of why coastguards in Maritime Response Coordination Centres (MRCC) need to gain and retain local knowledge. MCA management must schedule and remunerate staff to pursue this expertise, not leave them to organise themselves when they are off duty.
The report also expresses concern with regard to the arrangements for Emergency Towing Vessels and fire fighting at sea, now that the Maritime Incident Response group has been withdrawn.
The Government is called to provide statistics on the age profile and length of service of coastguards at each MRCC and to set out its strategy for retaining experienced coastguards, particularly in terms of recruitment to positions based at the MOC.
Find similar publications here: