The Armed Forces Covenant in Action? Part 1: Military Casualties
HC 762, Seventh Report of Session 2010-12 - Volume I: Report, Together With Formal Minutes, Oral and Written Evidence
Author:

House of Commons - Defence Committee

Publisher:

TSO (The Stationery Office)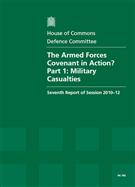 Add to Basket
'The Armed Forces Covenant in Action? Part 1: Military Casualties (HC 762)' by the Defence Committee, gives praise to the first class medical treatment provided for the Armed Forces, but questions whether the support for injured personnel will be sustainable over the long term.
The Government must show how the excellent medical care being delivered to injured service personnel, will continue long after the memory of the Afghan Operation fades. In particular, the Committee is concerned about the number of people who may go on to develop severe and life-limiting, physical, mental health, alcohol or neurological problems.
There is still a question mark over whether the Government fully understands the likely future demands and related costs.