The Work of Defence Estates
HC 535, Fifteenth Report of Session 2006-07 – Report, Together with Formal Minutes, Oral and Written Evidence
Author:

House of Commons – Defence Committee

Publisher:

TSO (The Stationery Office)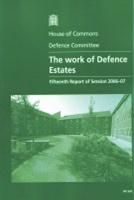 Add to Basket
The Ministry of Defence (MoD) is one of the largest landowners in the UK, with a total estate (including land and property) valued at around £18 billion. Defence Estates (an Agency of the MoD until April 2007 and now re-integrated as part of the MoD) has responsibility for managing the defence estate with an annual budget of £1.15 billion. 'The Work of Defence Estates (HC 535)' examines the work of Defence Estates, focusing on the standard of accommodation for Service personnel and their families.
The report highlights concerns about sub-standard accommodation, particularly in relation to the operation of the regional prime contracts for single living accommodation and the maintenance of service families accommodation under the housing prime contract. It argues that the provision of good quality accommodation for Service personnel and their families, modern and efficient office accommodation, and a well-maintained training estat play a vital role in contributing to the effectiveness of our Armed Forces, particularly important given the current high tempo of operations.
Overall, the report finds that although Defence Estates is doing much good work, there are considerable challenges ahead. A substantial increase in investment in the defence estate is required and the MoD must resist the temptation to take from the estates budget when the defence budget is stretched.