Scottish Independence: Constitutional Implications Of The Referendum
HL 188, Eighth Report of Session 2013-14
Author:

House of Lords - Select Committee on the Constitution

Publisher:

TSO (The Stationery Office)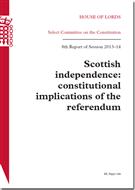 Add to Basket
House of Lords paper 'Scottish Independence: Constitutional Implications Of The Referendum (HL 188)' concludes that, in the event of a 'yes' vote in the Scottish independence referendum, MPs for Scottish constituencies, including ministers, should retain their seats in the House of Commons until the day of independence itself. However, they should not negotiate for the rest of the UK on the terms of independence, scrutinise the UK's negotiating team nor ratify a resulting agreement, as their first duty would be to their Scottish constituents rather than the interests of the rest of the UK.
The Constitution Committee also says that the wider status of MPs for Scottish constituencies, in terms of their ability to take part in other Commons proceedings not relevant to Scotland, would have to be decided before the 2015 general election if there were a 'yes' vote on 18 September.
The Committee concludes that in the event of Scottish independence the remainder of the UK would be the 'continuator' state and so retain its current international status and treaty obligations, as well as UK institutions such as the BBC and the Bank of England. Scotland would become a new 'successor' state and would not have any automatic claim on those institutions.
There would be no constitutional or legal requirement for the UK Government to adhere to the Scottish Government's proposed timetable for full independence by March 2016, and they should not do so if that would undermine the interests of the rest of the UK.
Find similar publications here: