Budget 2012 Policy Costings
Author:

HM Treasury

Publisher:

TSO (The Stationery Office)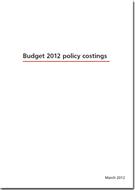 Add to Basket
'Budget 2012 Policy Costings' sets out the assumptions and methodologies underlying the costings for tax and Annually Managed Expenditure (AME) policy decisions announced since Autumn Statement 2011.
The costing for the change from 50% to 45% additional rate of income tax can be found in the HM Revenue & Customs additional rate evaluation document (see below). This sets out considerable detail on the additional rate, including estimates of forestalling, other behavioural responses and the steady state yield.
Further detailed information is given on the key data and assumptions underpinning the costing policies in the 2012 Budget. Each note sets out the description of the measure, the base, the methodology for the costing and highlights any areas of additional uncertainty.
Find similar publications here: