Assisted Dying Bill
HLB 25, Session 2015-16
Author:

House of Lords

Publisher:

TSO (The Stationery Office)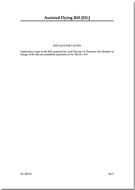 Add to Basket
The 'Assisted Dying Bill (HLB 25)' provides for a person who is terminally ill and has six months or less to live to seek and lawfully be provided with assistance to end their own life. The process is dependent upon a request being made by the person concerned and no other person, including the patient's doctor, family or partner would be able to initiate the process of requesting an assisted death.
In order to be eligible a person must be a terminally ill adult (a person who is expected to die from a terminal illness within six months) who is aged 18 or over.
The bill extends to England and Wales and a person must have been ordinarily resident in England or Wales for at least one year when a declaration is made.
Find similar publications here: