The Border Force: Securing The Border
HC 540, Report by the Comptroller and Auditor General, Session 2013-14
Author:

National Audit Office (NAO)

Publisher:

TSO (The Stationery Office)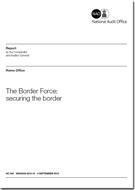 Add to Basket
Since the UK Border Force was separated from the UK Border Agency it has met some important objectives such as reducing queuing times; however, the report 'The Border Force: Securing The Border (HC 540)' concludes that to provide value for money it needs to perform effectively and in a sustained way across the full range of its activities.
Border Force officers reported that staff shortages and the requirement to prioritise full passenger checks while managing queue times often prevented their performing other important duties, such as checking freight. In addition, during the first months of 2012-13, the Border Force's performance in some of its activities, such as seizures of cigarettes and counterfeit goods, entry refusals and detecting forgeries, was below target.
The Home Office's internal auditors confirmed that the 2012 Olympics and wider resourcing issues had an effect on the Border Force's ability to consistently resource customs controls.
The Border Force's workforce lacks organisational identity. The Border Force consists largely of officers who previously worked in separate customs and immigrations agencies, and who typically still identify themselves as 'ex-customs' or 'ex-immigration'. The Border Force is recruiting more staff to meet demands, but there are continuing staff shortages at the border.
The Force has not established whether it has the resources it needs to deliver all its objectives, and it needs to deploy staff flexibly to respond to its competing demands, but they are prevented from doing this as efficiently as possible because almost a fifth of its workforce are employed under terms and conditions that restrict working hours to fixed periods during the week.
Find similar publications here: