Progress On reducing Costs: HM Revenue & Customs
HC 889, Report by the Comptroller and Auditor General, Session 2012-13
Author:

National Audit Office (NAO)

Publisher:

TSO (The Stationery Office)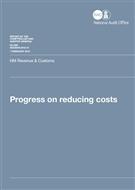 Add to Basket
Despite challenging circumstances in 2011-12, HM Revenue and Customs (HMRC) maintained its performance in key strategic areas at the same time as reducing its staff and spending; 'Progress On reducing Costs: HM Revenue & Customs (HC 889)' reports that the challenge for HMRC now will be to make more and deeper reductions over the spending review period while increasing tax revenues, improving customer service and introducing its 'real time information' project and changes to benefits and credits.
HMRC made £296 million of savings in 2011-12, exceeding its target by 19% - about one third of the total savings it is required to make over the four years of the spending review period. However, HMRC expects these projects to save £162 million less over the spending review period than when the NAO last reported on this subject in July 2011. This is partly because its forecasts are now more refined and realistic, and partly due to some projects taking longer to start, which mean the benefits will take longer to be realised.
HMRC has strengthened how it manages its change programme in ways that address NAO and Public Accounts Committee recommendations. The Department has also started to improve its understanding of interdependencies between projects and of the cost and value of its activities, though it still has more to do in these areas.
At September 2012, HMRC was on track to exceed its 2012-13 cost reduction target by £29 million. However, the reduction in planned savings being delivered by change projects means that HMRC needs to find £66 million more savings than it originally planned through other initiatives.