Customer Service Performance: HM Revenue and Customs
HC 795, Report by the Comptroller and Auditor General, Session 2012-13
Author:

National Audit Office (NAO)

Publisher:

TSO (The Stationery Office)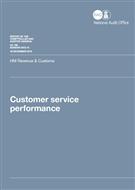 Add to Basket
The report 'Customer Service Performance: HM Revenue and Customs (HC 795)' recognises that HM Revenue and Customs (HMRC) has restored customer service levels from a low point in 2010, when problems with the new National Insurance and Pay As You Earn (PAYE) system increased the number of queries.
HMRC has now dealt with long-term backlogs by employing 2,500 temporary staff, enhancing phone technology and improving productivity. In 2011-12, HMRC answered 74% of phone calls against an interim target of 58%. This level of service is nevertheless low.
So far in 2012-13 HMRC has improved its handling of postal enquiries, but its performance in handling calls has been varied. Depending on the tariff they pay their phone company, customers are charged from the moment their call is connected, even if they are held in a queue. The NAO estimates that it cost customers £33 million in call charges while they are in the queue. Most of HMRC's numbers are still '0845' numbers which result in high call charges for some customers. Alternatives are being investigated.
Analysis by the NAO indicates that by the end of 2012-13 and through 2013-14, HMRC could achieve its target of answering 90% of calls; however, by 2014-15 HMRC will have reduced numbers of contact centre staff so will need to redeploy large numbers of back-office processing staff to answer telephones.
There is also uncertainty about the impact on call volumes of large-scale changes, such as the introduction of Real Time Information and the transition to universal credit.
Find similar publications here: