Freedom And Choice In Pensions
Cm 8835
Author:

HM Treasury

Publisher:

TSO (The Stationery Office)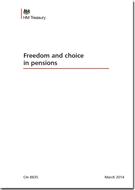 Add to Basket
The consultation 'Freedom And Choice In Pensions (Cm. 8835)' forms a key part of a wider set of reforms announced at Budget 2014.
The Government is keen to ensure that individuals who want to save are supported in doing so. The nature of retirement is changing as people are living longer and their needs more varied. In this Government's view the State should not be imposing restrictions on individuals who have made tough choices to save for the future. So from next year there will be no restrictions on people's ability to draw down from their defined contribution pension pots after age 55.
The tax rules will be drastically simplified to give flexible access to pension savings. Consumers will therefore also need to be well informed to make their choices, and the Government will introduce a new duty on pension providers and schemes to deliver a 'guidance guarantee' by April 2015. A development fund of £20 million will be made available to get the initiative up and running.
Find similar publications here: