Scotland Analysis: Science And Research
Cm. 8728
Author:

Home Office

Publisher:

TSO (The Stationery Office)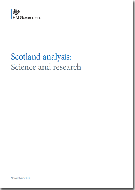 Add to Basket
The paper 'Scotland Analysis: Science And Research (Cm. 8728)' explores how an integrated domestic environment for research in publicly funded institutions supports the UK's, including Scotland's, excellent and thriving research base which is vital for innovation and economic success.
An independent Scottish state would become responsible for deciding how much to spend on research activity and how to distribute research funding. In order to replace the 2012-13 level of Research Council expenditure in Scotland (£307 million), the Government of an independent Scottish state would have to spend 0.23% of 2012 GDP on research, or seek additional funding from elsewhere such as overseas, businesses or charities.
Businesses and research charities could face additional administrative burdens created by divergences in regulatory regimes and tax jurisdictions, meaning funding projects in both the continuing UK and an independent Scottish state could become more complex. UK national institutions would operate on behalf of the continuing UK as before but would have no power or obligation to act in, or on behalf of an independent Scottish state.
In the event of independence the single strategic and highly integrated research framework would be likely to diverge as an independent Scottish state set and delivered its own research priorities. Research collaborations between the continuing UK and an independent Scottish state would be international collaborations associated with levels of risk not present in domestic collaborations.
Research excellence is also supported by the ability of researchers and staff to move freely across the UK and elsewhere, thereby supporting the flow of knowledge.
Find similar publications here: