Office for Budget Responsibility: Economic and Fiscal Outlook: March 2012
Cm. 8303
Author:

Office for Budget Responsibility (OBR)

Publisher:

TSO (The Stationery Office)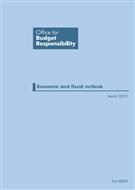 Add to Basket
The Office for Budget Responsibility (OBR) was established to provide independent and authoritative analysis of the UK's public finances. Part of this role includes producing the official economic and fiscal forecasts. 'Office for Budget Responsibility Economic: Economic and Fiscal Outlook: March 2012 (Cm. 8303)' sets out forecasts for the period to 2016-17.
The report also assesses whether the Government is on course to meet the medium-term fiscal objectives. The OBR assessment of the outlook and risks for the UK economy is broadly unchanged since the November 2011 report.
A technical recession will be avoided with the central forecast:
0.8% growth in GDP in 2012;

2% in 2013;

2.7% in 2014; and

3% for 2015-16 period.
Public sector net borrowing (PSNB) is forecast to total £126 billion, 8.3% of GDP this year which is £1.1 billion less than the November forecast. For 2016-17, the PSNB is then forecast to decline to £21 billion. The fall in PSNB in 2012-13 is much larger than the OBR's November forecast due to the Government's decision to transfer the Royal Mail's historic pension deficit.
The Chancellor's decision to cut 50% additional rate income tax to 45% has an estimated direct cost to the Exchequer of £0.1 billion in 2013-14.
Other forecasts by the OBR include:
(a) the International Labour Office (ILO) unemployment rate to rise from 8.4% to 8.7% over the coming year;
(b) household disposable income growth to be weak in 2012-13, but consumption to begin to offer some support to the recovery in the second half of the year; and
(c) that the situation in the euro area remains a major risk to accurate forecasting.