Operation Of The National Planning Policy Framework
HC 190, Fourth Report of Session 2014-15 - Report, Together with Formal Minutes Relating to the Report
Author:

House of Commons - Communities and Local Government Committee

Publisher:

TSO (The Stationery Office)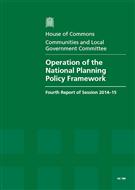 Add to Basket
The report 'Operation Of The National Planning Policy Framework (HC 190)' examines evidence on how the National Planning Policy Framework (NPPF) has worked in practice since it came into operation in April 2012.
Evidence has highlighted a number of emerging concerns:
the NPPF is not preventing unsustainable development in some places;

inappropriate housing is being imposed upon some communities as a result of speculative planning applications; and

town centres are being given insufficient protection against the threat of out of town development.
These issues do not, however, point to the need to tear up or withdrawn the NPPF; rather they suggest a need to reinforce its provisions and ensure it does the job it was intended to do.
Find similar publications here: