Progress In Tackling Tobacco Smuggling: HM Revenue & Customs
HC 226, Report by the Comptroller and Auditor General, Session 2013-14
Author:

National Audit Office (NAO)

Publisher:

TSO (The Stationery Office)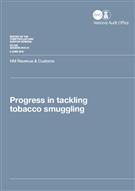 Add to Basket
The report 'Progress In Tackling Tobacco Smuggling: HM Revenue & Customs (HC226)' examines the effectiveness of HM Revenue & Customs (HMRC) renewed strategy for tackling tobacco smuggling.
The NAO finds that the strategy is logical and includes a wide range of complementary measures, but HMRC does not yet have an integrated approach to deterring and disrupting the distribution of illicit tobacco within the UK.
Some good progress has been made in building intelligence overseas with the expansion of HMRC's network of intelligence officers, which helped overseas authorities seize goods equivalent to a prevented revenue loss of £658 million between 2011-12 and 2012-13.
However, there are problems with the strategy, including:
the delay or cancellation of key initiatives;

the lack of a good understanding of the volume of prosecutions and other sanctions needed to effectively deter the trade in illicit tobacco;

a need for better intelligence on distribution networks to target domestic enforcement activities efficiently;

the benefit of £328 million by the end of 2012-13 acheved by HMRC's new initiatives was less than two-thirds of the benefit expected so far (£527 million); and

although HMRC has worked with tobacco companies to review supply chain policies so as to avoid the facilitation of smuggling, it has issued only one warning letter and no penalties so far.
HMRC met all but one of its key operational targets for tobacco in 2011-12, but failed to meet any of its targets in 2012-13, and is unlikely to achieve its plan to prevent £1.4 billion in revenue being lost to tobacco smuggling over the spending review period.