Tax Avoidance: Tackling Marketed Avoidance Schemes: HM Revenue and Customs
HC 730, Report by the Comptroller and Auditor General, Session 2012-13
Author:

National Audit Office (NAO)

Publisher:

TSO (The Stationery Office)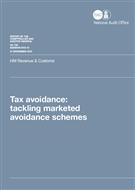 Add to Basket
'Tax Avoidance: Tackling Marketed Avoidance Schemes: HM Revenue and Customs (HC 730)' reports that there is little evidence that HM Revenue and Customs (HMRC) is making progress in preventing the sale of highly contrived tax avoidance schemes to a large number of taxpayers.
The Disclosure of Tax Avoidance Schemes (DOTAS) introduced in 2004 by HMRC, has helped the department make some important headway in reducing the opportunities for avoidance, by changing tax law to prevent some types of avoidance activity, larger accountancy firms are now less active in this area.
Tax avoidance is not illegal and is therefore inherently difficult to stop. A potential avoider can use a scheme to gain a tax advantage until HMRC can prove that the arrangement is not consistent with tax law. This can take many years and often requires litigation.
HMRC has increased its focus on the tax affairs of high net worth and affluent individuals, but there are still 41,000 open avoidance cases and HMRC are yet to demonstrate how this number will be reduced.
With such a large number of cases coming from mass-marketed schemes, HMRC are seeking to litigate a few lead cases, to demonstrate that the schemes will not succeed in the courts.
HMRC has an anti-avoidance strategy, but does not monitor its costs and has not yet identified how it will evaluate its effectiveness. This limits its ability to make informed decisions about where to direct its avoidance activity.
Find similar publications here: