Guide to Implementing Procurement Fraud Controls
BS 10501:2014
Author:

BSI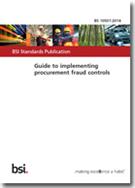 Add to Basket
Procurement fraud is a complex issue. It covers a wide range of illegal activities from bid rigging during the pre-contract award phase through to false invoicing in the post- contract award phase. It can be perpetrated both internally and externally.
Procurement fraud can be particularly difficult to detect as cases are rarely reported and so it is difficult to measure the extent of the problem. Where fraud is detected, resource is generally channelled into investigation and prosecution which is expensive and rarely ends in a conviction or the recovery of losses.
The existing approach to tackling the problem must change, with greater focus placed on preventing this type of fraud. That's why we've published BS 10501:2014 Guide to implementing procurement fraud controls so you can ensure you have the right measures in place.
The British Standard offers guidance on fraud control measures that help your organization:
Identify the risk of procurement fraud

Mitigate procurement fraud

Actively manage related risks

Detect, report and respond to allegations or suspicions

Monitor, review and implement control measures.
BS 10501:2014 is applicable to all types and sizes of organizations (including small and medium enterprises) in all sectors (including the public and private sectors, and the charity and voluntary sectors).
The document is applicable only to procurement fraud, specifically fraud offences committed in the procurement life cycle. It is not applicable to other criminal offences, such as anti-trust/competition and money laundering offences, although an organization may choose to extend the scope of its procurement fraud controls to include these other offences.
Find similar publications here: