Review of the Number of Members of the Northern Ireland Legislative Assembly and on the Reduction in the Number of Northern Ireland Departments
NIA 52/11-15, Second Report Together with the Minutes of Proceedings and Minutes of Evidence, Research and Information and Other Papers
Author:

Northern Ireland Assembly: Executive Review Committee

Publisher:

TSO (The Stationery Office)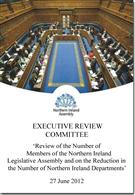 Add to Basket
'Review of the Number of Members of the Northern Ireland Legislative Assembly and on the Reduction in the Number of Northern Ireland Departments (52/11-15)' examines the potential benefit of streamlining governing institutions, also focusing on the number of Members of the Legislative Assembly (MLA).
The review is based on the five key issues set out in the Committee's 'Call for Evidence':
Whether the statutory link between Westminster and Northern Ireland constituencies should be removed and the implications of removing or retaining this link;

The implications of the forthcoming reduction (on the implementation of the Parliamentary Voting System and Constituencies Act 2011) and any further reduction to the MLA;

The reduced MLA can ensure the effectiveness of the Assembly in delivering its key functions, consistent with the safeguards on inclusivity;

Proposals to mitigate the impact of reducing the MLA in delivering its key functions, including proposals to ensure a robust and effective committee system; and

The reduction in the number of Northern Ireland departments and associated re-allocation of functions that ensure the effectiveness of the Executive functions are maintained.
The Committee concluded that members consider that the issues are very much interlinked and that a holistic approach to reaching a view on the size of the Assembly in terms of the MLA should be taken.
It could not reach consensus on the size of the Assembly. This Report therefore sets out in some detail the particular position of the Political Parties represented to the Committee.
Find similar publications here: