DFID's Role in Building Infrastructure in Developing Countries
HC 848, Ninth Report of Session 2010-12 - Volume I: Report, Together with Formal Minutes, Oral and Written Evidence
Author:

House of Commons - International Development Committee

Publisher:

TSO (The Stationery Office)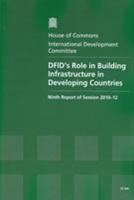 Add to Basket
In 'DFID's role in Building Infrastructure in Developing Countries (HC 848)', the International Development Committee reports that the Department for International Development (DFID) can be proud of much of the work it does to build infrastructure in developing countries - on which the Department spends £1 billion annually.
The Committee highlights however, the need to monitor spending, recommending that Ministers improve monitoring of infrastructure spending through multilateral organisations, such as the EU, World Bank and African Development Bank.The UK should insist on provisions in large multilateral infrastructure projects which require local capacity building in order to boost local employment and the private sector with developing countries.
The MPs also raise concerns that infrastructure construction in developing countries is particularly prone to corruption. The report points to DFID's success in helping to establish the Construction Sector Transparency Initiative (CoST) to counter corruption, which has proved effective and is to be transferred to the World Bank. DFID should continue to provide the funding and staff time to ensure that CoST can build on the successes of its pilot phase.
DFID should publish a departmental strategy on infrastructure. This would help DFID clearly to convey its rationale and priorities within the sector, emphasising that DFID funding is directed to the Department's key priorities within the sector, including the need to build local capacity, implement road safety measures and ensure the use of technologies appropriate to the needs of developing countries.
Far more private money is needed to finance large infrastructure projects, and DFID has done well in helping leverage private funding through initiatives such as the Private Infrastructure Development Group.
Find similar publications here: