The 2015 Charity Fundraising Controversy: Lessons For Trustees, The Charity Commission, And Regulators
HC 431, Third Report of Session 2015-16 - Report, Together with Formal Minutes Relating to the Report
Author:

House of Commons - Public Administration and Constitutional Affairs Committee

Publisher:

TSO (The Stationery Office)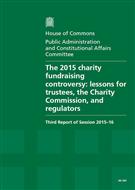 Add to Basket
'The 2015 Charity Fundraising Controversy: Lessons For Trustees, The Charity Commission, And Regulators (HC 431)' examines both the regulation of charity fundraising and the way in which trustees of large charities govern fundraising.
The Committee's report is in response to allegations made in the summer of 2015 by the Daily Mail in relation to the unethical practices employed in fundraising activities. The Government also set up the Etherington Review into the regulation of Charity Fundraising in response to the same allegations.
Consensus amongst witnesses to the Committee's inquiry was both that trustees had failed in their duty to extend their governance to fundraising, particularly in the management of sub-contractors, and in support of Etherington's proposals.
The Government is right to welcome Etherington's recommendations. This is the last chance for self-regulation. It is essential that the Etherington system is made to work effectively, though it can only work by supporting effective governance by trustees.
Find similar publications here: