Community Rights
HC 262, Sixth Report of Session 2014-15 - Report, Together with Formal Minutes Relating to the Report
Author:

House of Commons - Community and Local Government Committee

Publisher:

TSO (The Stationery Office)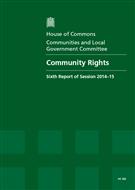 Add to Basket
The report 'Community Rights (HC 262)' concludes that the Government's policy of empowering people through Community Rights to save local assets from closure, build community housing, take over local authority services and bring public land back into use has, in its first two years - had mixed results.
Rights put in place 'to Bid', 'to Build', 'to Challenge' and 'to Reclaim Land' - have generated some successes, with a small number of community groups being able, for example, to use the Community Right to Bid to stop valued local assets such as the local pub being sold for redevelopment.
However, limitations have been exposed:
The Right to Build - is too complicated.

The Community Right to Challenge - which triggers a tendering exercise to run a local service, risks damaging relations between communities and local government and is a gamble for groups wanting to run a local service as they may be outbid.

The Community Right to Reclaim Land - has hardly been used.
The Committee wants to see the Rights improved so that local people have more say over what happens to the land, buildings and services in their area.
The report recommends that the Government:
enhance the Community Right to Bid by increasing from six to nine months the time people have to bid to buy a local asset; make it easier to remove or restrict the 'permitted development' exemption from planning control when an asset has been listed as having Community Value; and

make an assets' status as an Asset of Community Value a material consideration in all but minor planning applications.
Find similar publications here: