The UK's Development Work In The Occupied Palestinian Territories
HC 565, Third Report of Session 2013-14 - Report, Together with Formal Minutes Relating to the Report
Author:

House of Commons - International Development Committee

Publisher:

TSO (The Stationery Office)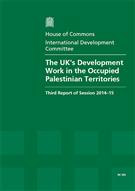 Add to Basket
The report 'The UK's Development Work In The Occupied Palestinian Territories (HC 565)' finds that ongoing violence by Palestinian and Israeli extremists does not bode well for peace negotiations for a two-state solution. However, as much of the coverage surrounding recent violence has highlighted, restrictions which restrain economic development within the Occupied Palestinian Territories (OPTs) remain a key issue for the Palestinians.
In particular, as the World Bank made plain in a report last year, there would be scope to raise Palestinian GDP by over 20% if Palestinian businesses were allowed to invest the part of the West Bank controlled by Israel. The conflict between Hamas and Israel and the stalling of the peace talks should not prevent the UK and other European countries from pressing Israel to end unnecessary restrictions.
In particular, the Committee challenges the assertion that restrictions which curtail economic development in the OPTs are based on Israel's security needs. The UK should encourage both sides to negotiate to address the disputed issues, including Palestinian access to 3G and 4G services in the West Bank, and greater access to the West Bank aquifer, construction permits, demolitions and master plans. The Department for International Development should also support the World Bank programme for helping the Palestinian Authority with land registration.
While the Committee welcomes the UK's decision to introduce labelling guidelines for products made in Israeli settlements, they call for a review to examine whether the guidelines have been implemented and to what effect. MPs also strongly support the Palestinian Market Development Programme but also call for the provision of a Sector Grant Facility and Development Impact Bonds in the OPTs.
Find similar publications here: