Private Members' Bills: Government Response And Revised Proposals
HC 1171, Fifth Report Of Session 2013-14 - Report, Together with Formal Minutes Relating to the Report
Author:

House of Commons - Procedure Committee

Publisher:

TSO (The Stationery Office)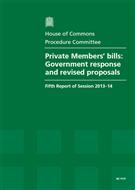 Add to Basket
The report 'Private Members' Bills: Government Response And Revised Proposals (HC 1171)' sets out a revised package of recommendations for reform of the private Member's bill process, following the Committee's report of September 2013 (see below).
Since the report of September 2013 the Committee have received a response from the Government, which is published as an appendix to this report, and discussed recommendations further with the Leader of the House.
The revised proposals include that:
the House should agree to a convention that the question on second reading of a private Member's bill should be put to the House at the end of a full day's debate, in the same way that the House expects the question to be put on second reading of a Government bill;

bills which have not been published should be clearly identified in the Future Business section of the Order Paper;

pages should be provided on the Parliamentary website where draft private Members' bills can be made available online for scrutiny and comment, which should be done on a pilot basis in the 2014-15 session;

a bill need not be brought in immediately after leave is granted under the ten minute rule;

the risk of a single Member monopolising the limited opportunities for debate of private Members' bills should be reduced, by providing that a private Member may present no more than one bill on any one day;

the deadline for publishing a private Member's bill should be brought forward to the Wednesday of the week prior to the day of second reading; and

Private Members' bills should be called 'backbench bills'.