Deterrence In The Twenty-First Century
HC 1066, Eleventh report of Session 2013-14 - Volume I: Report, Together with Formal Minutes
Author:

House of Commons - Defence Committee

Publisher:

TSO (The Stationery Office)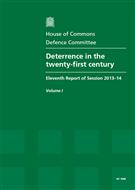 Add to Basket
'Deterrence In The Twenty-First Century (HC 1066)' examines the UK's armed deterrence capabilities and how these should be maintained. The report concludes that the Ministry of Defence's (MOD) financial settlement in the next Comprehensive Spending Review must be made in the light of the need to retain a credible deterrent capacity in the country's Armed Forces.
The Committee welcomes the emphasis that the Government places on the importance of cyber defence and the commitment of resources to a new cyber strike capability. However, the difficulty in identifying actors in a cyber attack makes the ability to deter that much harder. Similar questions arise in deterrence against the asymmetrical threat of terrorism, as it is difficult to identify interests and groups against which a response can be legitimately targeted. The MOD should set out how it can make clear that both cyber and terrorist attack will elicit an appropriate and determined response.
The UK's ability to effect a nuclear response is not credible in dealing with all threats, so strong conventional deterrence is also required. It would be naive to assume that a decision not to invest in the nuclear deterrent would release substantial funds for investment in other forms of security. The Committee believes that the decision on the retention of the nuclear deterrent should be made on its own merit.
Investment in diplomatic and intelligence assets must also be integral to the UK's security apparatus, given the importance of communication to the concept of deterrence.
Find similar publications here: