Government's Alcohol Strategy
HC 132, Third Report of Session 2012-13 - Volume I: Report, Together with Formal Minutes, Oral and Written Evidence
Author:

House of Commons - Health Committee

Publisher:

TSO (The Stationery Office)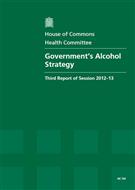 Add to Basket
'Government's Alcohol Strategy (HC 132)' reports that the main focus of the alcohol strategy is binge drinking and its consequences for anti-social behaviour; although those are important issues, the health impact of chronic alcohol misuse is also significant and greater emphasis needs to be placed on addressing that impact.
In order to be effective the Strategy needs some clearer objectives to provide a framework for both policy judgements and accountability. The Committee recommends that Public Health England should have a central role in developing these objectives, and linking them to local strategies in every area across the country.
The Committee supports the decision to introduce a minimum unit price for alcohol, but a transparent process must be put in place in order to ensure that the price level is evidence-based and is monitored to assess its effectiveness.
The Committee concludes that:
The Responsibility Deal is intrinsic to responsible corporate citizenship, but it is not a substitute for Government policy.

The alcohol industry needs to acknowledge that its advertising messages do have an effect on attitudes if it wishes to be seen as a serious committed partner in the Responsibility.

Rules on alcohol advertising should be re-examined to reduce the likelihood of adverts influencing young people under 18.

Public Health England should undertake an evaluation of the effectiveness of the Responsibility Deal and should commission a study into the principles and implications of introducing the French Loi Evin.
The Committee welcomed the Department of Health's work on which models of treatment provision are most effective in addressing the health issues caused by alcohol abuse.
Find similar publications here: