The Iran Hostages Incident: The Lessons Learned
HC 181, Fourth Report of Session 2007-08 – Report, Together with Formal Minutes, and Written Evidence
Author:

House of Commons – Defence Committee

Publisher:

TSO (The Stationery Office)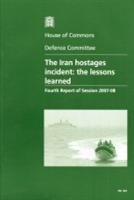 Add to Basket
On 23 March 2007, 15 Royal Navy personnel from HMS Cornwall were captured by the Iranian Revolutionary Guard while conducting a boarding operation on a merchant vessel in shallow waters near the mouth of the Shatt al-Arab waterway between Iraq and Iran. They were taken to Iran, paraded before the international media, and detained until their release and return home on 5 April. On their return, the Royal Navy staged a press conference for some of the detainees: two of them subsequently sold their stories to the media.
Lt General Sir Rob Fulton was appointed to inquire into the operational circumstances and factors leading to the capture of the Royal Navy personnel. His report was confidential and not published but the Defence Committee was allowed to see it to ensure Parliamentary scrutiny. The Committee reports that Fulton robustly identified serious weaknesses in intelligence, communications, doctrine, and training. Whilst there were insufficient grounds for courts martial, formal administrative action has been taken against a number of Service personnel.
The Government has made good progress towards implementing Fulton's recommendations. The Committee also considered the findings of the Hall report into media access to Service personnel (available at: www.mod.uk). The decision to allow the Service personnel to sell their stories was a serious mistake and deeply damaging to the reputation of the Royal Navy. The Secretary of State for Defence has accepted responsibility and apologised but this should not absolve others from blame.
Find similar publications here: