The Official DVSA Guide to Riding - The Essential Skills
Book
Author:

Driver & Vehicle Standards Agency

Publisher:

TSO (The Stationery Office)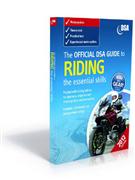 Add to Basket
This comprehensive guide provides you with everything you need to know to learn and maintain safe riding skills for life. For learners, experienced motorcyclists and instructors alike.
5 reasons to buy it:
For your riding life - packed with loads of useful advice to help you stay safe on the roads; ideal for refreshing your knowledge before and after your test

For learner - key source material for the motorcycle theory test, study this text for complete test preparation

Riding techniques - information on essential riding skills including defensive riding

All conditions - including riding at night and in all weather conditions

Extra information - including vehicle maintenance and ecosafe riding
More information:
Improve your riding technique - includes essential riding techniques and defensive riding, bends and junctions, plus advice on riding on motorways, at night and in all weather conditions including fog, snow and ice

Be confident in any situation - includes advice on what to do in an incident or emergency, travelling through roadworks and congestion, and what to do if you break down

Theory test preparation - this is a key source material for the motorcycle theory test (alongside The Official Highway Code and Know Your Traffic Signs) - study this material to prepare fully for your test. It is referenced throughout the official theory test preparation materials

Save money and the environment - learn about ecosafe riding and how you can make your fuel go further

Practical test advice - includes details on independent riding and maintenance essentials

Specialist information - including riding in Europe
Written by the Driving Standards Agency, the people who set the motorcycle tests.
Have you considered downloading this title?