Basic Principles of Building Construction
Fire Service Manual – Volume 3: Fire Safety
Author:

HM Fire Service Inspectorate

Publisher:

TSO (The Stationery Office)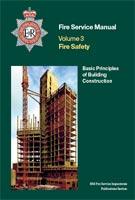 Add to Basket
This volume of the Fire Service Manual replaces the previous Book 8. It also contains new sections dealing with fire safety generally. Chapter one provides an update of the present position in England and Wales, together with additional information applicable to Scotland. It particularly deals with The Regulation of Building Control, recognising the significant impact of European Directives (The Construction Products Directive 89/106/EEC).
The impact of the European wide activity is dealt with in some detail in chapter two. The objective of harmonisation of building control throughout the 15 Member States of the European Union, means that fire officers will increasingly be confronted with European Sandards (Euro Norms - ENs) rather than British Standards, and products that have been accorded the CE approval mark in their dealings with building proposals.
This publication supersedes 'Manual of Firemanship: A Survey of the Science of Fire-fighting – Book 8: Building Construction and Structural Fire Protection' (ISBN 0113410387).
Find similar publications here: