Constitutional Implications Of Coalition Government
HL 130, Fifth Report of Session 2013-14
Author:

House of Lords - Select Committee on the Constituion

Publisher:

TSO (The Stationery Office)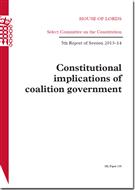 Add to Basket
The report 'Constitutional Implications Of Coalition Government (HL 130)' expresses concern about repeated breaches of collective responsibility under the coalition Government, and called on the Prime Minister and Deputy Prime Minister to set out rules clarifying when and how Ministers can express differing views.
The report highlights a number of areas where the coalition partners have disagreed publicly which were not identified in the 2010 Programme for Government. The Committee observes that these disagreements have undermined the constitutional principle that Ministers who are not prepared to defend Government policy are expected to resign.
The Committee sets out apparently unprecedented examples, such as Ministers being whipped into different voting lobbies on proposals to amend parliamentary constituencies, and Conservative Ministers not being required to vote against an amendment to the address on the Queen's Speech, which suggests new rules on collective responsibility under coalition Governments are now required.
This is one of a number of issues which the Committee believes should be addressed by political parties and the Government before the next general election.
Find similar publications here: