Budget 2014
HC 1104
Author:

HM Treasury

Publisher:

TSO (The Stationery Office)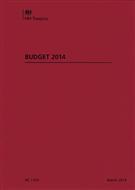 Add to Basket
'Budget 2014 (HC 1104)' sets out the next steps in the Government's long-term economic plan. It announces further detail on reducing the deficit and debt beyond the present Parliament, including setting the level of the welfare cap and controlling the cost of public sector pay and pensions.
The Budget is fiscally neutral, confirms that Government departments remain ahead of their consolidation targets and that recent pay review body recommendations will be limited to 1% in 2014-15.
Budget 2014 announces further reforms to support investment and the recovery - policies include:
doubling the annual investment allowance to £500,000 until the end of 2015;

£140 million to repair flood defences and £200 million for a pothole challenge fund;

support for new technologies, use of Big Data;

action to boost housing supply, creating a £500 million Builders Finance Fund to provide loans to Small and Medium Enterprise housing developers;

an urban development corporation for a new garden city in Ebbsfleet; and

reduce energy costs for business.
Other measures include:
(i)a major reform to the way people access their pensions, abolishing the effective requirement to buy an annuity, outlined in 'Freedom And Choice In Pensions' (see below);
(ii)a new ISA is to be introduced with a raised annual limit of £15,000 and new pensioner bonds will be issued by National Savings and Investments; and
(iii)the income tax personal allowance will rise to £10,500 in 2015.
Annexes cover the welfare cap, the long-term debt challenge, financing, and the 'Economic and Fiscal Outlook' (see below). A new and highly secure £1 coin will also be introduced.
The Budget 2014 PDF is available to download as a fully searchable document in the TSO online library www.officialpublicationsonline.co.uk
Please contact officialpubsonline@tso.co.uk for more details
Find similar publications here: