Scotland Analysis: EU And International Issues
Cm. 8765
Author:

HM Government

Publisher:

TSO (The Stationery Office)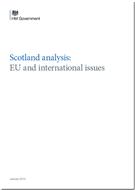 Add to Basket
In September 2014 a referendum will be held in Scotland on whether to become an independent state. The report 'Scotland Analysis: EU And International Issues (Cm. 8765)' examines independence in respect of the EU and international issues and sets out the case for retaining Scotland as part of the UK.
Scotland would, on independence, become an entirely new state and would need to become formally recognised. The UK would no longer have any obligation to represent Scottish interests within international organisations and Scotland would need to apply for membership.
At present Scotland benefits from and contributes to the UK's bilateral relationships and its representation in multilateral organisations, including NATO, the UN and the EU. It would not be eligible to join the United Nations Security Council as a permanent member, nor likely to have single state representation at the G7, G8 and G20.
To replicate the UK's international networks and influence on the world stage would present a significant financial burden to the Scottish taxpayer. Scottish businesses also benefit from the active support of UK Trade and Investment's (UKTI's) overseas offices.
In respect of the EU, the UK acts on Scotland's behalf in such areas as budget contributions, fisheries, agricultural subsidies and Structural Funds. An independent Scotland would need to become a new member of the EU and re-enter negotiations on such matters, particularly in regard of contributions and accession to funds.
The publication is divided into three chapters:
Chapter 1: The UK's international policy;

Chapter 2: The UK's international networks and influence; and

Chapter 3: The European Union.
Find similar publications here: