Scotland Analysis: Security
Cm. 8741
Author:

Home Office

Publisher:

TSO (The Stationery Office)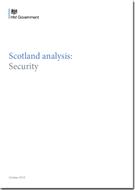 Add to Basket
The paper 'Scotland Analysis: Security (Cm. 8741)' analyses the UK's approach to identifying and managing threats to the national security of the UK, and the implications for these arrangements of a vote for Scottish independence; it complements analysis of the UK's approach to defence explored elsewhere in the Scotland analysis series.
It is clearly in the UK's interests to be surrounded by secure and resilient neighbouring countries, including - in the event of a yes vote - an independent Scottish state. While the UK endeavours to work with other countries and international organisations to improve security and fight organised crime for everyone's mutual benefit, there is something qualitatively different about being influential and intimately connected with the rest of the UK by being a part of it.
Issues of national security are of the utmost sensitivity, linked to a country's foreign, security and defence policy posture, and any decisions closely related to matters of sovereignty and democratic accountability. For this reason a security union is closely connected to the existence of a political union. The creation of an independent Scottish state would see an end to the current arrangements for ensuring Scotland's security, including Police Scotland, would no longer be part of the UK's national security infrastructure and capabilities.
In practical terms this means that the present level of strategic and operational communication and co-ordination that occurs everyday across the UK, would end.
Find similar publications here: