Scotland Analysis: Borders And Citizenship
Cm. 8726
Author:

HM Government

Publisher:

TSO (The Stationery Office)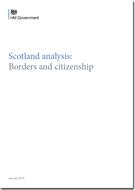 Add to Basket
In September 2014 Scotland will hold a referendum on independence; 'Scotland Analysis: Borders And Citizenship (Cm. 8726)' is the tenth paper in the Scotland Analysis series and looks at the implications for borders and citizenship.
The paper sets out how the current UK framework benefits the whole of the UK (including Scotland) and explores the challenges which an independent Scottish state would face in assuming control of its borders, and considers the difficult choices that the people in Scotland would have to face on issues such as citizenship and nationality.
The publication is divided into four chapters:
(i) Why borders matter
(ii) The movement of people
(iii) Movement of goods
(iv) Citizenship and passports.
Find similar publications here: