Scotland Analysis: Macroeconomic And Fiscal Performance
Cm. 8694
Author:

HM Government

Publisher:

TSO (The Stationery Office)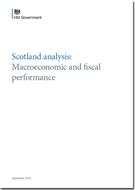 Add to Basket
The paper 'Scotland Analysis: Macroeconomic And Fiscal Performance (Cm. 8694)' sets out the role of economic and fiscal integration in shaping Scotland's economic performance as part of the UK and describes some of the potential economic and fiscal consequences of independence.
In September 2014 people in Scotland will take one of the most important decisions in the history of Scotland and the whole of the United Kingdom (UK), whether to stay in the UK or leave it and become a new, separate and independent state.
In advance of the referendum, the UK Government will ensure through the Scotland analysis programme that the debate is properly informed by analysis and that the facts crucial to considering Scotland's future are set out.
This report follows the fourth paper in the Scotland analysis series, Scotland analysis: Business and microeconomic framework, which sets out how the UK's domestic market is a key part of Scotland's successful business environment.
Find similar publications here: