Economic and Fiscal Outlook: December 2012
Cm. 8481
Author:

Office for Budget Responsibility (OBR)

Publisher:

TSO (The Stationery Office)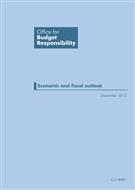 Add to Basket
'Economic and Fiscal Outlook: December 2012 (Cm. 8481)' sets out forecasts for the period to 2017-18 and also assesses whether the Government is on course to meet its medium-term fiscal objectives.
The economy has performed less strongly than forecast in March 2012 (see below).
Gross Domestic Product (GDP) is forecast to:
fall by 0.1% in 2012;

grow by 1.2% in 2013;

by 2.0% in 2014;

by 2.7% in 2016; and

by 2.8% in 2017.
Public sector net borrowing (PSNB) is forecast at £108 billion or 6.9% of GDP this year (excluding the transfer of the Royal Mail's historic pension deficit into the public sector). PSNB is then forecast to decline to £31 billion or 1.6% of GDP by 20017-18.
Public sector net debt (PSND) is now expected to peak at 79.9% of GDP in 2015-16, which will mean that the Government will miss its supplementary target of PSND falling as a share of GDP between 2014-15 and 2015-16.
Other developments since the March 2012 forecasts include the fall of the rate of unemployment to 7.8%, and the rise of the overall level of employment to 29.6 million in the three months to September. Around half the increase since 2011 has been driven by a rise in self-employment and part-time employees, though total hours worked per week have also risen.
Inflation is likely to be higher in the short term, reducing the growth of real household disposable income and consumption.
The Government has a greater than 50% chance of hitting its fiscal mandate, although the situation in the 'Euro' area continues to weigh on confidence and trade.