Managing Sustainable Development of Organizations. Framework for Assessment Against BS 8900-1. Specification
BS 8900-2:2013
Author:

BSI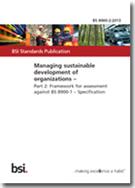 Add to Basket
Sustainable development management is about business leaders taking a responsible approach to social, economic and environmental matters that are relevant to their organization, and expressing these in line with the business case.
BS 8900-2:2013 Framework for assessment against BS 8900-1 - Specification can be used to embed the principles set out in 8900-1, thus helping organizations to determine and follow their own pathway on sustainable development.
This standard sets out the requirements necessary for organization leaders to take ownership and drive the management of sustainable development on a continuing basis. It maximizes the value of existing approaches such as management systems and reporting. In this, it provides for the formulation of high level sustainable development objectives.
BS 8900-2 acts as an evaluative framework to support organizational self-assessment or third-party assessment and result in formative outcomes. It is not a management system specification. Instead, it provides a strategically based framework, or scheme, which aims to direct and lead the organization's approach.
The guidance can be applied by organizations of any size, sector and type.
Find similar publications here: