Examining Officers and Review Officers under Schedule 7 to the Terrorism Act 2000 Code of Practice March 2015
Author:

Home Office

Publisher:

TSO (The Stationery Office)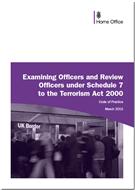 Add to Basket
Schedule 7 to the Terrorism Act 2000 ('Schedule 7') allows an examining officer to stop and question individuals travelling through ports, airports, international rail stations or the border area. When necessary they may also detain and search individuals. The aim is to determine whether that person appears to be someone who is, or has been concerned, in the commission, preparation or instigation of acts of terrorism.
Schedule 7 also contains a power for examining officers to examine goods, which may only be exercised for the purpose of determining whether the goods have been used in the commission, preparation or instigation of acts of terrorism. Goods examinations under Schedule 7 have found items including birth certificates, passports, mobile phones, memory cards, and firearms being used in the commission, preparation and instigation of terrorism.
Given the current threat from Syria and Iraq, measures in the Counter-Terrorism and Security (CTS) Bill clarify the legal position in relation to the examination of goods in remote storage outside the immediate boundary of a port and of goods comprising items of post. The statutory code of practice provides guidance to examining officers on the application and interpretation of Schedule 7.
The Home Office has had to revise the code of practice to reflect the changes introduced in the CTS Bill. These changes will maintain the protection of the UK border as well as confirming that the practice of examining goods is foreseeable and lawful.
This title is an update to the ISBN 9780113413720, published 26 August 2014, Examining Officers And Review Officers Under Schedule 7 To The Terrorism Act 2000 Code of Practice - Presented to Parliament Pursuant to Paragraph (72) of Schedule 14 to the Terrorism Act 2000.
Find similar publications here: