Economic and Financial Globalization: What the Numbers Say
Author:

United Nations Institute for Training and Research (UNITAR)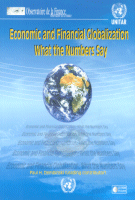 Add to Basket
The purpose of this book is to help readers develop a well founded independent view of the global economy and global finance. This requires both a conceptual and a quantitative frame of reference. This book provides a structure for this, based on two principles: a transnational outlook, and clarity of method.
Key features:
Analyses 25 key concepts relating to economic and financial globalisation

Contains 125 charts and tables in full colour

Includes a CD-ROM which contains its English and French versions providing easy access to individual chapters and graphs
Globalisation is a planetary process. Instead of classifying or comparing individual countries this book focuses on global and regional trends.
United Nations Institute for Training and Research (UNITAR)
United Nations Institute for Training and Research (UNITAR), established 1965, enhances the effectiveness of the UN through appropriate training and research. It works with partners from within and outside the UN system for the continued improvement of its programmes and methodologies in order to ensure that the institute can effectively address the merging needs and challenges faced by states and their citizens.
Readership
An invaluable tool for decision-makers in the national and private sectors, teachers, students, and media staff who will find in this book the quantitative data they need to assess the importance of modern trends and phenomena.
Find similar publications here: