Scrutiny of Arms Export Controls (2011): UK Strategic Export Controls Annual Report 2009, Quartely Reports for 2010, Licensing Policy and Review of Export Control Legislation
HC 686, First Joint Report of Session 2010-11: Report, Together with Formal Minutes, Oral and Written Evidence
Author:

House of Commons - Department for Business, Innovation and Skills / Defence Committee / Foreign Affairs Committee / International Development Committee

Publisher:

TSO (The Stationery Office)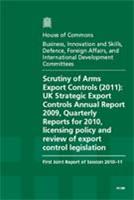 Add to Basket
'Scrutiny of Arms Export Controls (2011): UK Strategic Export Controls Annual Report 2009, Quarterly Report for 2010, Licensing Policy and Review of Export Control Legislation (HC 686)' is the first joint report on arms export controls since the present Government took office in May 2010.
As in previous years, the report reviews the Government's policy on arms exports, its administration and enforcement, and the adequacy or otherwise of current legislation. This year the Committees have paid particular attention to the Government's policy of intensifying the promotion of arms exports.
The policy has come under scrutiny following the uprisings and demonstrations in recent weeks in North Africa and the wider Middle East and the armed response made to them. Since January 2011 the Government has been vigorously backpedalling on a number of arms export licence approvals to authoritarian regimes across the region.
The MPs conclude that both the present Government and its predecessor misjudged the risk that arms approved for export to certain authoritarian countries in North Africa and the Middle East might be used for internal repression.
The Committees welcome the revocation of a number of arms export licences to Bahrain, Egypt, Libya and Tunisia, and recommend that the Government extends immediately its review of UK arms export licences for countries in North Africa and the wider Middle East to authoritarian regimes worldwide.
The Government should also set out how it intends to reconcile the potential conflict of interest between increased emphasis on promoting arms exports with the staunch upholding of human rights.