Progress on the Implementation of DFID's HIV/AIDS Strategy
HC 49-I, First Report of Session 2009-10, Volume 1
Author:

House of Commons – International Development Committee

Publisher:

TSO (The Stationery Office)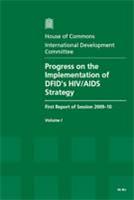 Add to Basket
Progress has been made on providing HIV/AIDS treatment in developing countries but the 2010 target of universal access to treatment will not be met. 'Progress on the Implementation of the DFID's HIV/AIDS Strategy (HC 49-1)' reports that the disease remains a significant development and public health challenge in many developing countries.
Contents:
Chapter 1 introduces the inquiry and lays out the stucture of the report.

Chapter 2 examines how the Department for International Development's (DFID) Strategy will be monitored and evaluated.

Chapter 3 looks at DFID's funding for strengthening health systems and its likely impact on HIV/AIDS programmes.

Chapter 4 analyses how effectively HIV/AIDS programmes are integrated with strategies for tackling other related diseases.

Chapter 5 discusses the extent to which social protection programmes will help those made vulnerable by HIV/AIDS, particularly children.

Chapter 6 examines the Strategy's approach to marginalised groups.

Chapter 7 looks at access to anti-retroviral treatment.

Chapter 8 examines overall funding for HIV/AIDS programmes and DFID's co-operation with other multilateral and bilateral donors.

Chapter 9 looks at the effectiveness of cross-Whitehall working and, in particular, the role of the Foreign and Commonwealth Office in taking forward HIV/AIDS work in middle-income countries.

Chapter 10 makes conclusions based on the report's findings.
The accompanying 'Progress on the Implementation of DFID's HIV/AIDS Strategy - Volume II: Oral and Written Evidence (HC 49-II)' (ISBN 9780215542281) is available to buy separately, please see below.
Find similar publications here: