Construction Matters
HC 127-I, Ninth Report of Session 2007-08 – Volume I: Report, Together with Formal Minutes
Author:

House of Commons – Business and Enterprise Committee

Publisher:

TSO (The Stationery Office)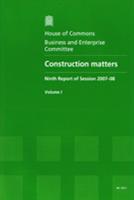 Add to Basket
The construction industry, which contributed 8.7% of the UK economy's gross value-added (GVA) in 2006, provides employment for more than 2.8 million people. The built environment is estimated to account for some 70% of UK manufactured wealth. The industry's ability to deliver projects successfully in terms of time, cost, and design quality has a major impact on the economy's wider performance.
Construction is vital for the provision of good quality public services and plays a role in the delivery of just over half of the Government's 30 public service agreements. It is also key to the long-term objective of making the UK a low-carbon society; buildings account for around half of greenhouse gas emissions.
The health of the construction industry is a matter of public concern. The industry is complex and fragmented and operates on low profit margins. There are difficulties in ensuring:
that lessons from experience are shared;

that the workforce is sufficiently trained; and

that appropriate contractual relationships are in place between different parts of the supply chain.
The industry has set new targets for itself and, in conjunction with government, has established a Strategy for Sustainable Construction. Because of its role as both client and regulator, the Government can and must be at the forefront of the drive to embed best practice. The sector also needs strategic leadership, and the Committee recommends the creation of the post of Chief Construction Officer, which both government and the industry should accept as having overall responsibility for construction.
The accompanying 'Construction Matters – Volume II: Oral and Written Evidence (HC 127-II)' (ISBN 9780215521774) is available to buy separately, please see below.
Find similar publications here: