Appointment Of Angela Knight As Chair Of Tax Simplification
HC 734, Fifth Report of Session 2015-16 - Report, Together with Formal Minutes Relating to the Report
Author:

House of Commons - Treasury Committee

Publisher:

TSO (The Stationery Office)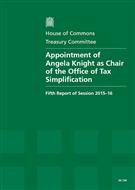 Add to Basket
The report 'Appointment Of Angela Knight As Chair Of Tax Simplification (HC 734)' considers the suitability of Ms Angela Knight for her role as Chair of The Office of Tax Simplification (OTS).
Ms Knight's appointment is considered by the Committee against two criteria, personal independence and professional competence, as the previous Treasury Committee did for her predecessor and for appointees to the Bank of England's Policy Committees and the Office for Budget Responsibility.
In this appointment hearing, the Committee also wanted to ensure that the candidate's personal and professional background does not give rise to any conflicts of interest with the aims of the OTS.
Notwithstanding reservations based on the evidence it heard, the Committee is content to endorse Ms Knight's appointment
Find similar publications here: