Transgender Equality
HC 390, First Report of Session 2015-16 - Report, Together with Formal Minutes Relating to the Report
Author:

House of Commons - Women and Equalities Committee

Publisher:

TSO (The Stationery Office)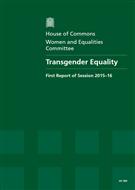 Add to Basket
Fairness and equality are basic British values; a litmus test for any society that upholds those values is how far it protects even the most marginalised groups. Britain has been among the countries going furthest in recognising lesbian, gay and bisexual rights; however, the report 'Transgender Equality (HC 390)' concludes that we are still failing this test in respect of trans people, despite welcome progress.
High levels of transphobia are experienced by individuals on a daily basis (including in the provision of public services) - with serious results. About half of young transgender (trans) people and a third of trans adults attempt suicide. The recent deaths in custody of two trans women, and the case of a trans woman who was placed in a men's prison, are particularly stark illustrations of the issues.
The Committee suggests that The Gender Recognition Act 2004, which was pioneering, is now dated. Its medicalised approach pathologises trans identities and runs contrary to the dignity and personal autonomy of applicants. The report calls upon the Government to update the Act in line with the principle of gender self-declaration.
Trans people feel strongly that the provision on spousal consent under the Marriage (Same Sex Couples) Act 2013 gives spouses an effective veto on gender recognition. However, marriage is a legal contract between two consenting parties, the terms of which cannot be changed without the consent of both. The Committee takes very seriously the possibility that this provision may be used by spouses with malicious intent.
Protection for trans people under the Equality Act 2010 was a huge step forward. However, the terms "gender reassignment" and "transsexual" in the Act are outdated and misleading, and may not cover wider members of the trans community. The protected characteristic should be amended to that of "gender identity".
Find similar publications here: