Building Public Engagement: Options For Developing Select Committee Outreach
HC 470, First Special Report of Session 2015-16
Author:

House of Commons - Liaison Committee

Publisher:

TSO (The Stationery Office)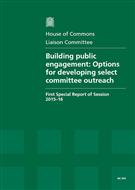 Add to Basket
In 2012, the House of Commons introduced a new core task for all select committees that focused on public engagement as a distinctive and explicit factor of their work. 'Building Public Engagement: Options For Developing Select Committee Outreach (HC 470)' focuses on how the select committees have responded to the new core task.
The Committee makes three core conclusions:
(i) There has been a significant shift within the select committee system to taking public engagement seriously and this is reflected in many examples of innovation;
(ii) This shift, however, has not been systematic and levels of public engagement vary significantly from committee to committee; and
(iii) A more vibrant and systematic approach to public engagement is urgently needed but this will require increased resources, a deeper appreciation of the distinctive contribution that select committees can make and a deeper cultural change at Westminster.
Therefore, the report details innovations in relation to the use of social media, the structure of inquiries and innovative outreach. Public engagement has not yet been fully embedded into the culture of parliament but there is evidence of significant 'cracks and wedges' that can now be built-upon and extended during the 2015-20 Parliament.
The focus of the Committee and the topic of the inquiry will have some bearing on the approach to engagement adopted, but a more expansive and ambitious approach across the board is to be encouraged. This report leads to a ten-point set of inter-related recommendations but they can all be connected in the sense that the existing social research demonstrates a clear desire on the part of the public to do politics differently.