Recovery And Development In Sierra Leone And Liberia
HC 247, Sixth Report of Session 2014-15 - Report, Together with Formal Minutes Relating to the Report
Author:

House of Commons - International Development Committee

Publisher:

TSO (The Stationery Office)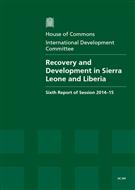 Add to Basket
'Recovery And Development In Sierra Leone And Liberia (HC 247)' reports that Sierra Leone and Liberia have made remarkable recoveries since their civil wars; Ban Ki Moon was in Freetown this month to bring an end to the UN Security mission and set the United Nations (UN) presence on a conventional development footing.
In Liberia there has been a gradual drawdown of the peacekeeping mission which will approximately halve the UN military presence by 2015.
However, both countries remain fragile with high unemployment and concerns about corruption. The devastating Ebola outbreak in Sierra Leone and Liberia demonstrates the dangers of ignoring the least developed countries in the world. The weak state of the health system in both countries has greatly reduced the effectiveness of the response to Ebola. There is an alarming lack of capacity in the health system, including a shortage of skilled clinicians.
The Committee have determined that the scale of the Ebola crisis now unfolding in Sierra Leone and Liberia, may well be connected to declining levels of international support for health system improvements, in what remain two of the poorest and least developed countries in the world.
Find similar publications here: