Towards The Next Defence And Security Review: Part Two - NATO
HC 358, Report, Together with Formal Minutes Relating to the Report
Author:

House of Commons - Defence Committee

Publisher:

TSO (The Stationery Office)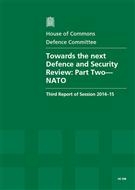 Add to Basket
Recent events in Crimea and Eastern Ukraine should be a wake-up call for NATO (North Atlantic Treaty Organisation) and the UK; the report 'Towards The Next Defence And Security Review: Part Two - NATO (HC 358)' warns that NATO has serious deficiencies in its command and control structures, in its ability to predict and give adequate warning of potential attack, and in the readiness of its forces.
NATO may not have the collective political will to take concerted action to deter attack. Russian Federation actions in Ukraine have now raised the prospect, however unlikely, of a Russian attack on a NATO Member State. The report recommends that NATO needs to reorder, train and exercise its capabilities to be able to defend against both eventualities. The Committee also recommends that the UK Government take the lead at the NATO Summit in Wales in September, to ensure that NATO is ready to face such threats.
The Committee's specific recommendations call for:
pre-positioning of military equipment in the Baltic States;

a continuous presence of NATO troops on training and exercises in the Baltic;

re-establishment of large-scale military exercises including all NATO Member States and involving political decision makers;

improvements to the NATO rapid reaction force and the possible establishment of a new Standing Reserve Force for NATO;

improvements to processes for warning of imminent attack;

radical improvements in Russian expertise in the UK Government, allowing for real analysis and assessment of the Russian threat;

development of new tactics to respond to the threat of 'ambiguous' attacks from Russia - including how to counter threats from cyber, information warfare, and irregular militia; and

a reconsideration of Article 5, to allow response to less conventional attacks.
Find similar publications here: